Room Solutions Staging is based in Portland, Oregon, and offers a varied menu of professional home staging services throughout the Portland Metro area. Our proven staging techniques will help reduce your property's market time and maximize your equity.
Staging that sells Portland homes
~ 2014 Top 10 Professional Stager of the Year in the U.S. ~
~ 2013 Top 10 Professional Stager of the Year in the U.S. ~
~ 2012 Professional Stager of the Year (Western U.S.) ~

Awarded by the Real Estate Staging Association (RESA)

As Featured in Local and National Media
Local and national media alike turn to Room Solutions Staging when reporting on how home staging helps Portland-area sellers in today's challenging real estate market. Benefit from our expertise on your next home staging project by contacting us.
Our home staging and design work has been featured in the following TV and print media:
When HGTV needed a home staging and design expert in the Portland OR area, they selected Maureen Bray of Room Solutions Staging as a Featured Designer for their popular show My First Place. The episodes air repeatedly -- check your local listings.
Home Staging in Portland Oregon Blog
Check out our Home Staging in Portland Oregon Blog featuring the latest home staging tips, trends, and examples of our home staging projects in the Portland area.
Our Mission Statement
Room Solutions Staging is committed to providing our clients with the finest home staging and re-design services available in the greater Portland area.
We promise to offer personalized services tailored to your property's individual needs and to showcase your home to its best advantage, whether you are selling it or living in it.
We are dedicated to maximizing the profit potential of our clients' properties and reducing market time.
We pledge to deliver superior service at competitive prices and to perform our work with honesty, integrity, and the utmost respect for your property.
Statistics Prove Home Staging WORKS in Portland
For 2013, Room Solutions' staging expertise helped sell $42 Million of residential property in the Portland metro area. Our staged properties had average Days on Market time of just 18.5 days compared to the Portland metro average Days on Market time of 83 days. During this time, the homes that we've staged and provided home staging consultations for achieved an average 99.4% of list price. 
YTD for 2014 through 3-31-14, average days on market for homes that we've staged is just 12 days, and homes that we're staging have achieved 100% of list price.
Don't let your property linger on the market when a small investment in staging can help it sell faster and for maximum value.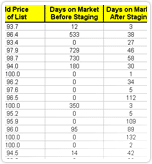 Why take the risk of paying carrying costs each month for a mortgage, property taxes, HOA dues, and utilities -- not to mention the inevitable price reductions when your home doesn't sell? A staged home can encourage more viewings, faster offers and a pending sale. Using our professional home staging services can save you time and money, whether you need a cost-effective Staging Consultation or Staging of an Occupied or a Vacant home.
Join the many homeowners, Realtors, investors, builders and banks who rave about our service ~ Contact us for a free home staging proposal for your property.
Staging Your Home Is A Smart Investment
The investment in staging is always less than a price reduction. Regardless of market fluctuations, staging will give your home an edge over competing properties. It's the all-important "packaging" that helps a home sell faster and for maximum profit.
In addition, your investment in staging may also be tax deductible; refer to IRS Publication 523 and your professional tax advisor for more information on deducting this marketing expense.
Our Home Staging Services in the Portland OR Area
Room Solutions Staging offers a variety of professional services to homeowners, investors, and realtors; we're flexible and want to work within your time frame and budget. If you have a service request that isn't listed here, just contact us to let us know how we can help you.
Home Staging Services Offered To Homeowners, Builders, Banks and Investors
Walk through Verbal Consultation (Occupied Home or Vacant Property): This very popular service is geared towards the homeowner or Realtor for either an Occupied or Vacant home. We walk through the property with you while you take notes of our recommendations for easy cosmetic repairs that will give you the best ROI, light fixture replacements, interior & exterior paint colors, how to create focal points, the best furniture placement to create a good traffic flow in your home, deep cleaning tips, editing your collections & photos, curb appeal & landscaping enhancements, etc. Afterwards, we'll provide you with a "Top 10 List" of things that we recommend be completed in your home before it goes on the market. We also provide you with written tips on preparing for the Open House & keeping your home ready for showings. Up to 2 hours of time – $195; $15 for each additional 15 minutes. If distance is greater than 20 miles from SW Portland, an additional charge may apply.
Home Staging Service for Occupied Homes: If the home is Occupied while on the market, we will work with and edit the seller's furniture and provide any additional accessories (if needed) to create an inviting, cohesive look to the décor. Our service includes quality digital photos that can be used in the online listing or in marketing materials. The pricing of this service depends on the size of the property, the number of rooms staged and whether accessories are included for rent. Because every project is unique, we're happy to provide a no-obligation staging proposal for your property.
Home Staging Service for Vacant Homes: Using our extensive staging inventory, we can stage a Vacant property to ensure that it's appealing to your target buyer. We usually recommend staging the main "impact" rooms of the home, but can also provide "light" staging if required by the budget and situation. The pricing of this service depends on the size of the property and the number of rooms staged. Because every project is unique, we're happy to provide a no-obligation staging proposal for your property.
Electronic Consultation (E-Staging): If your property is located outside our service area (anywhere in the world) we can provide a detailed Consultation Report for your home. Using photos and room dimensions that you provide to us by email, we will advise which furniture to keep, which to remove, how to showcase the space for maximum appeal, as well as cosmetic improvements to do. The cost of this service depends on how many rooms are included. Please contact us for more information -- we'd love to help you whether you're planning to sell your home, or just want to fall in love with it again!
Full Day or Half Day Home Makeover (ReStyling) Projects: If you'd like a fresh look in your home, our home makeover service may be just what you need. This "ReStyling" service is less expensive than hiring a traditional interior decorator and very effective! We can make your home warm and inviting, and can also suggest where to buy the best accessories (or we can do the shopping for you). A no-obligation quotation is gladly provided.
Paint Color Consultation

: Need help selecting just the right interior or exterior paint colors?   Whether you're selling your property or staying in it, we can help you find just the right colors that work with the existing elements – billed @ $75/hour.

Gift Certificates

: Room Solutions Staging offers custom-designed Gift Certificates for Home Staging Consultations, Re-design Service, or Home Makeovers ~ in any amount. Surprise your friends & family or business clients & associates with a wonderful gift that will be much appreciated by the recipient!
Ready to make your home (or office) the talk of the town? Contact us for more information about any of the services listed above.
Home Staging Services Offered To Realtors
Do you have a listing that could benefit from the services of a professional home stager? We can provide cost-effective Verbal Consultation Reports, Full or Partial Staging, Accessories, and more. Whatever the budget, timing or obstacles, we're sure to have a solution to make your listings irresistible to buyers.
If you'd like professional-looking flyers to include in your listing presentations to clients, just let us know – we'll custom-design one just for you. 
Benefits of staging your listings with Room Solutions Staging:
Our expert staging techniques sell homes faster – please check out our local staging statistics here.
We know how to tactfully and diplomatically advise your clients about the changes and improvements necessary to sell their home.
Our staging service will boost interest in a home that's been lingering on the market for too long.
Including our professional home staging flyers in your marketing materials will position you as a valuable source of advice and resources to your clients.
We provide reciprocal links to our realtor partners' websites.
Custom-designed Gift Certificates are available for you to give to your clients – for staging consultations at their present home or at their new one; occupied or vacant staging services that you wish to provide them, or any of our other services. Include Gift Certificates in your listing presentations for your clients who decide to work with you; this way you'll be confident that their home will be presented looking its best, and one that will likely sell faster.
---
* Certified Staging Professional - CSP  (2008, 2009)
* Accredited Staging Professional - ASP (2006, 2007)
---
Staging Portfolio of Portland Oregon Homes Check out our before and after home staging photo gallery for examples of our work. Our job is never done until our client is happy with the results! About Room Solutions Staging Maureen Bray is an accredited and certified home staging professional, a former real estate investor & property manager, and a talented interior decorator. As the owner of Room Solutions Staging, she draws upon all of those skills and experiences to advise her clients and provide them with the staging solutions necessary to be successful in any real estate market. Maureen got her start in the real estate business when she staged her own investment properties in the Portland area. Over the years she recognized the importance of property presentation and knew that it made a big difference in how buyers felt when viewing a home. Maureen holds several international staging designations (CSP, ASP) and serves as the national Board President for the Real Estate Staging Association (RESA). She was also elected VP Membership for the Portland chapter of RESA. As a volunteer Moderator of the Stage It Forward Forum, part of the Active Rain real estate online network, Maureen continues to promote education in home staging for consumers and real estate professionals. Maureen was named 2013 Top Ten Professional Home Stager of the Year for the entire United States, an award sponsored by the Real Estate Staging Association (the professional trade association for the home staging industry). She was also named 2012 Professional Stager of the Year for the Western U.S. Finalists for these awards were voted on by home staging peers across North America, and Maureen was selected as the winner by a panel of staging & design industry judges. Maureen was also awarded the 2012, 2011 & 2010 Angie's List Super Service Award, which is earned by only 5% of member companies who receive their rankings and reviews from local consumers. Maureen's Portland home staging blog features our latest home staging tips, trends, and Before & After photo examples of our recent home staging projects for local homeowners and Realtors: http://homestagingportlandoregon.com/ Maureen is a native of Carmel, California and has made Portland her home for many years. She also spent eight years living in the rural countryside of County Limerick, Ireland, where she established a successful Bed & Breakfast business. During this time she also took on several major staging and design projects for various international clients. Local & national media continually turn to Room Solutions Staging when reporting how home staging helps sellers today's challenging real estate market in Portland Oregon and beyond. Benefit from our expertise on your next listing or home staging project by contacting us today. What Our Clients in the Portland OR Area are Saying… "Maureen staged a lovely, vacant mid-Century modern home. Her staging revealed the architecture and wonderful features (stained glass, huge windows, vaulted and beamed ceilings) and it was very well received by prospective buyers and those who had seen the previous listing photos. She also staged (complimentary) the kitchen and master bathroom - very much appreciated. I highly endorse Maureen - excellent job!" −− Kim Childs, Broker ~ Keller Williams Realty Portland Premiere "Maureen was so helpful, professional, and courteous. She not only provided terrific color recommendations and "uplift" ideas for our home along with her full-service staging solutions, but she also came back to tweak things when we requested. We had two full-price offers within hours and I am 100% positive that it was largely due to her gorgeous staging. Everyone who saw our house complimented the staging, prospective buyers and agents alike. Thank you Maureen!" −− Andrea Jones ~ Portland, OR "Wow!! The sellers did everything that you recommended and it made a humongous difference! Thanks. And they have nothing but nice things to say about you. You are a huge asset for our team." −− Sebastian DeBrun, Principal Broker ~ John L Scott Real Estate, Portland OR "Thanks! We got over asking price with two offers, and a huge turnout of people for the open house. I think the staging and photos really made the difference." −− Melanie Chadderdon ~ Portland, OR "We really valued the advice you gave us and are pleased with the results." −− Jon M. Fritzler ~ Portland, OR "Maureen, I wanted to tell you how grateful I am for your assistance in my real estate business. In my last vacant home listing, the owner balked at the staging cost, but I explained to him that the cost was minimal compared to the price reductions he likely would have to do in selling a home with no furniture. When the staging was complete, he agreed that the home looked fabulous, and it sold in 16 days!! In my most recent transaction the seller followed all our advice including the need for staging (using her own furniture); however she felt intimidated about your upcoming visit; but you immediately put her at ease and she was amazed how good her home looked when you were done. That home sold in 2 days!! I'm so glad that I have you on my team!!" −− Diane Mealey, Broker ~ John L. Scott Real Estate, Beaverton OR "Thanks so much, I could not have done it without you!" −− Janet Kahl ~ Portland, OR "Thank you. I love the staging you did - the house looks awesome. Thanks again for cooperating so beautifully with us. Everyone was so complimentary about the staging, I just had to tell you! Many kudos to you for your part in making the place pop!" −− Grace Reichen, Broker ~ ReMax Equity Group, Portland OR "The house looks beautiful, thank you!! You did a wonderful job!" −− Teresa Cordova ~ West Linn, OR "Maureen was personable, knowledgeable and professional; her proposal was thorough, and her pricing was very competitive. In advance of staging, Maureen provided us with a helpful list of "Things to Do" for us to take care of before staging day. These improvements enhanced the look of our home substantially, both inside and out. While other local stagers proposed removing and replacing much of our furniture and putting it in storage, Maureen's approach was to use the furnishings we owned, rearranging them and adding accessories from her inventory to present our home in an appealing manner. This worked well and was very cost effective. Our house was given a substantial makeover and looked terrific. When it went on the market, we received numerous compliments from Realtors and their clients about how good it looked. Most important, in less than a week we accepted an offer. Maureen's home staging work played an important part in our success." −− Hal Wright, Lake Oswego, OR "Thanks for your help!!! You did a great job staging this home!" −− Jessica Christopherson, Broker ~ Soldera Properties, Lake Oswego, OR "Thanks for everything; obviously the staging was genius. Our home sold in two days!" −− Cathy Mills, Tigard OR "Thank you Maureen ~ I'm so pleased with the staging and design work you did. It not only looks very nice, but you have certainly created a space that is going to appeal to a wide range of buyers. Your mixture of elements and color are wonderful! You will certainly be getting referrals from me on future listings!" −− Karen Sackos, ABR & Broker ~ Meadows Group Inc, Realtors, Tigard, OR "We wanted to let you know how much we enjoyed working with you on the staging of our house. You did an awesome job and we got a lot of really positive comments on the staging . I wish I had even a little of your talent!" −− Katherine Smith, Portland, OR "Your staging had a big impact on the sale of our home. I'll certainly recommend that others use your home staging services as well." −− Dale Cameron, Tigard, OR "I cannot imagine marketing without your beautiful and effective staging (good job, Maureen!)" −− Rebecca Walter, Listing Specialist ~ Redfin, Portland, OR "The house looks fabulous -- we just love your elegant staging :) The whole house flows together very nicely and has a cozy feeling and has never looked so great!! We are confident that the beautiful staging will result in many showings and a quick offer! Thanks again for working us into your very busy schedule." −− Matt Creitz, Portland, OR "Thanks for all your help Maureen. Your paint colors were spot on. We already have multiple offers over asking price :)" −− Lindsay Borg, The Debrun Team ~ John L. Scott, Portland, OR "Thank you for all your help, Maureen. We could not have gotten here without your help and advice. The paint colors on the walls, especially the LR/DR and hallway, are magnificent. Thanks, again." −− Mark Foster, Portland, OR "I wanted to tell you how much we appreciated you, your work, your warmth, and your ideas. We would not have even come close to your talents in staging. It was a great experience, and we both thank you very much." −− Greg Hight, Portland, OR "Thank you ~ you did a wonderful job; the staging looks great! You certainly helped me sell the house." −− Jim Holloway, Beaverton, OR "Thanks much on your staging - the home's presentation really got a great response. We had a lot of compliments and multiple offers. I passed your information on to our realtor, as he too liked the outcome." −− Jim & Sandi Brown, Lake Oswego OR "When Evy first walked into the house I heard "WOW…WOW…I want to live here!!" She REALLY likes the staging, and so do I, it is outstanding!" −− Ken Burkhart, Portland, OR "Our home sold in two days with a backup offer as well! Your tips and advice were invaluable to me as we prepared to put a "For Sale" sign in the yard. Our home looks so great it makes it even harder to leave. I am so glad to pass along your name to anyone I can. Thank you so very much for making what we had "work better" in our home." −− Brenda Baker, Lake Oswego, OR "Maureen at Room Solutions Staging provided a Verbal Consult prior to listing our home; we walked through each room and made placement changes, removed extra furniture and wow, what a difference! Her focus on making the home look warm and inviting provided buyers a chance to focus on our home's craftsmanship and not our stuff. All the rooms look spacious, inviting, and light-filled and it sold in 13 days! Maureen was quick to respond to all my emails and questions. We will use Maureen again to help us get settled into our new home! My advice: don't list your Portland-area home without calling Maureen at Room Solutions Staging first!" −− Brian & Jennifer Johnson, Happy Valley OR "I want to thank you for your amazing staging for the house I just built. I had over 15 showings the first 2 days and multiple competing offers. Room Solutions Staging is a key part of my marketing team and I look forward to working with you on all of my homes." −− John Duncan, TimberRidge Development and Broker ~ Oregon First Realty, Portland OR "We appreciated your input about our house during the Verbal Consultation and feel it greatly enhanced the showings." −− Scarlett and Trey Chanter, Lake Oswego OR "Thanks Maureen, I really appreciate your home staging help. You do an outstanding job!" −− Dale Kuhn, Principal Broker ~ John L. Scott Real Estate, Lake Oswego OR "I think very highly of Maureen: she's professional, generous, and easy to work with. She goes over and beyond, meeting you at sources (of which she has many, sharing her designers discount with you) and helping you get an overview of what you are trying to do. We were very pleased with her involvement and found her very easy and pleasant to deal with." −− Mary Lou Taggart, Lake Oswego OR "What a change in the rooms. You do such beautiful staging work Maureen and are very creative. Thank you so much for all of your help in so many ways!" −− Mary Stewart, Principal Broker ~ Home Trust Real Estate, Clackamas OR "Thank you so much, Maureen. You did such a wonderful job and it was well worth the cost to be able to show these apartments. It's a tough market right now, and I'm so pleased with the way you staged them. Many people, including our Regional Director, commented on how nice they looked." −− Ginni Kennedy, Executive Director ~ Northwest Place, Portland OR Maureen, you staged this home so well that my buyer fell in love and made an offer. Had we walked into an empty house and seen it vacant, although a lovely home, it would have needed vision. Thank you! You staged it beautifully and every time I was in it, I felt like I was in Key West instead of Lake Oswego, OR!" −− Cindy Westfall, Broker ~ Premiere Property Group, Portland OR "We hired Maureen at Room Solutions Staging to stage our home when we were having some trouble selling it. She did an AMAZING job and we subsequently sold our home within weeks. We were very impressed with her professionalism and eye/talent for making a room look it's best. We almost wanted to stay in our old house! Just recently we hired her to help us with decorating our new home. We made a Verbal Consult appointment for her to walk through and give suggestions as well as help us move furniture as needed. We had a room that was a challenge as far as placement of furniture; Maureen listened to our problem and reviewed what we wanted and how we used our room. She came up with a great solution that works beautifully. We were very pleased with the new arrangement. She also gave feedback as far as art selection and placement. In addition, we hired Maureen to shop with us for a couple of hours to help select new furniture for our home. She was a great help!" −− Craig Hurst, Hillsboro OR "Your selection of furnishings for staging was just perfect for this house - a good blend of traditional and modern. That really helped it appeal to buyers." −− Deborah Miller, Broker ~ Realty Trust Group, Lake Oswego OR "I had an excellent experience with Room Solutions Staging. I would highly recommend their services if you are looking for a fresh, new perspective on a home you are decorating, remodeling or updating. Maureen gave me many extra ideas and suggestions." −− Tamera Norquist, Gresham OR "Before selling our Portland home we interviewed several home staging companies to help prepare it for the photos and showings. We were living in it during the showings, so making sure the space was "livable" for us was of major importance. We chose Room Solutions Staging because Maureen was very professional, personal, and thorough. It was a very pleasant meeting and the quoted price was competitive. Maureen staged the house and I came home to a wonderful surprise! While we walked through the house, she gave some very effective advice about how to prepare for each showing and tips to help make showings easier while living there. The company who moved in the furniture was very professional (on-time, pleasant, careful) and respectful of our home. Although she used much of our own furniture, Maureen provided some selected pieces that would best showcase the space. Where her talent was demonstrated was in the detail and accent pieces, plants, art and décor items she provided. Maureen drew together the spaces extremely well, allowing for an easy "flow" throughout the house. Every single realtor who showed the house noted how their clients loved the pieces we had and how the house looked very inviting. We heard "the house shows extremely well" after nearly every showing! We are extremely happy with our experience and will recommend Room Solutions to anyone who has a need for home staging or decorating advice. In fact, we already have!" −− Sarah Nenni Daher, Portland OR "Maureen Bray and Room Solutions Staging are the best in the business when it comes to Portland home staging. I will sell about 200 homes this year and none sell faster and for more money than they do after Maureen and her team provide the proper design and staging. If it was my choice, she would stage every home that I list, as it makes my job a lot easier!" −− Aaron Rian, Broker, Keller Williams Portland Premiere "Thank you for helping us with the staging and presentation of our home. The suggested change in exterior house color was well worth your visit. We appreciate your explanation as to why the first impression of the home would benefit from choosing a new color. Your suggestions saved us time and provided us with new ideas and input into minor improvements we could make (new throw pillows, rugs, plants etc.). Since we have an eclectic assortment of furniture, I was most pleased that you could work with what we already had, therefore avoiding unnecessary expenditures. We have no hesitation in referring your services -- you certainly exceeded our expectations!" −− Elizabeth Burke, Portland OR "Thank you so much for the beautiful home staging. Everyone that saw the house loved it. It made all the difference on the fast sale." −− Luann Pelton, Beaverton OR "I would hire Maureen in a heartbeat to stage my home. She is the go-to person for high end staging. Her name is at the top of the list when I talk about the importance of home staging with clients." −− Greg Pierce, Owner ~ Capella Tours, Portland OR "We had TWO solid offers - for well over asking price, both within 24 hours of hitting the market! We LOVE the staging you did in our home! We believe it's (by far) the best investment we've made in getting that home ready to go on the market. Your creativity definitely emphasizes the positive aspects of the home. I'm so happy we found you!" −− Jane Myatt, Beaverton OR "Maureen was a godsend. During our initial conversation, Maureen took the time to listen and assess our situation from my many thoughts and words. We knew we needed help to make our home more sellable. But not until Maureen's first visit with us, did we realize how much. Maureen composed a list (25+ items of suggestions, details and well- thought out plans), worked with me through resources, pictures and e-mails to convey her ideas. Maureen's vision and inspiration changed our home into a delight to the eye, and a place where others could see it as "their" home. Thank you Maureen!" −− Judi and Greg Martin, Portland OR "Thanks Maureen, great job with the Staging -- definitely a big factor in selling. Will call you for staging the next one." −− Sean Heyworth ~ Heyworth Development & Remodeling, Portland OR "Maureen, thank you again for the great design and implementation. Your home staging really paid off." −− Michael Roley, Woodburn OR "You are a very talented home stager. The change was dramatic and the appeal of the house was enhanced much more than I expected. We appreciate your tasteful and expert choices. I know it will help the sale of the home. Thanks again!" −− John Bunzow, Portland OR "All I can say is wow. The place looks very, very nice. Your choice of colors works very well. Rich, yet cute and homey; spacious and fun. Thank you for your eye to detail." −− Adam Munhall, Portland OR "With so many homes to choose from, it's critical to make a good first impression. Staged homes just sell better than homes that aren't staged..they're warm and inviting. It emphasizes the good features of the home. We had an accepted offer 3 days after your staging! Hooray -- the house looked fabulous!!" −− Joanie Elliott-Barclay, Broker, Coldwell Banker Seal "I just wanted to thank you and congratulate you on your staging of the Camellia house. You did a superb job! The house looks fantastic! I only wish you could help me with my California house." −− Susan Andazola, Woodburn OR "You are amazing at what you do! Anyone would be crazy not to use your home staging services. You did a great job! Thank you for all you do." −− Brian Bellairs, Principal Broker, Meadows Group, Beaverton OR "We attribute our quick sale of our home to the staging; kudos to you for helping us get the house ready. It really came together nicely, especially the living room." −− Chris Lyons, Portland OR "One day on the market, 5 offers, 3 over list price. We really pushed the price envelope on this house but you did such an amazing job preparing it for market that I'm not at all surprised by the multiple offers. You're Wonder Woman!" −− Julia Lanning, Broker, M Realty, Portland OR "We hired Maureen to stage our home for sale. She gave lots of specific input about what we could do to have the house looking fresh and suggested specific paint colors. The setup went like clockwork. She took photos, and her photos are so gorgeous. I didn't even recognize the place as our house! A buyer made an offer on the 3rd day it was on the market. We were so pleased with what she did for our house that we hired her to give us decorating advice in our new home. For a reasonable fee Maureen came for 2 hours, offering suggestions about placement, art, and other decorative items. She was personable, thoughtful, and we have already taken many of her suggestions. All during the process, Maureen was exceedingly professional and supportive. I cannot praise her enough -- she went above and beyond the call of duty to help us out. And all this is in addition to the fact that she is an amazing stager whose advice and staging I am positive helped sell our house in 3 days. Use her! You won't regret it." −− Steve and Sarah Cantor, Portland OR "Wow!!! My goodness, Maureen, I have looked and looked at what you have done, what a transformation. Thanks for the beautiful staging arrangement of our wonderful home." −− Carol Lowry, Tigard OR "I tried to sell my home unsuccessfully for 6 months before using home staging with Maureen Bray at Room Solutions Staging. The result speaks for itself -- I had an offer less than 1 week after staging. Not only did Maureen provide the staging, but she also advised me on many details which I had not considered. I believe her advice, her photos for the MLS, and her staging made all the difference in enabling this home sale. Through her staging Maureen provides the vision most of us lack in imagining how we would make a home look warm, cozy and functional. She is straightforward, professional and punctual. I highly recommend her services." −− Scott Williams, Portland OR "We are so glad we found Maureen Bray and Room Solutions Staging! We listed our house Nov. 15, 2011 and had lots of lookers but no offers. Maureen staged our home on Feb. 23rd and we accepted a full price offer three days later. Three days! We can't rave enough about her work. She was professional, punctual, knowledgeable about the local market, and very willing to work with us to develop a staging concept that both met our budget requirements and made our house look drop-dead fabulous. She also provided great photos, useful advice and tips to get our home looking its best." −− Howard and Nancy Roll, Portland OR "Thank you for the great staging. It made a huge difference. Three days on the market, two offers, and now under contract. Thank you again for all your efforts" −− Betty Walker, RE/MAX Equity Group, Clackamas OR "I hired Room Solutions Staging and sold my high-end house in just 8 days. I am convinced that this amazing design service was a key part of a winning marketing formula!" −− Angela Wright, Beaverton OR "Wow! Is this the same place?!! You did a wonderful job Maureen. We all agree that the staging played a big part in the quick sale! Thank you." −− Susan Anderson, Portland OR "Be sure to call Maureen before listing your house. We had a vacant house on the market since May, but four months later we hired Room Solutions to stage the house. Maureen gave us many tips that we followed (like new light fixtures and so on). After the house was staged, it took only a few weeks to get a full price offer; the house was transformed!" −− Janine Schulwitz, Portland OR "Maureen staged a home I was selling using her furniture for the living room, dining, kitchen and master bedroom. She was supportive in my desire to use some of my own things, and she had good suggestions on what to use and how. She was able to do the staging on rather short notice and my home sold quickly ~ in less than a week and for over the asking price." −− Lynn Powe, Portland OR "Thank you for your help. The staging really made the difference, and you impressed our agent enough that she will recommend you in the future!" −− Craig Roberts, Portland OR "Maureen made the staging and showing of our home effortless in one of the worst markets in recent history. Her recommendations for updating our home allowed us to make improvements where it did the most good. If not for Maureen, we would have spent a lot more money on unnecessary renovations that wouldn't have helped the sale of our home. With savvy upgrades and Maureen's beautiful home staging, we had potential buyers coming to the house every week. It's no accident our home sold this year (2011) when other homes in our area aren't moving at all. We can thank Maureen and Room Solutions Staging for that." −− Jane and Michele Sharp, Damascus, OR "Excellent product and service! Maureen is a consummate professional who is passionate about the value-add her service provides, and she obviously loves what she does. She provided a written estimate within 24 hours of meeting me at the house … then she staged the property and emailed photographs of the final results (which was a very nice touch so I could update the listing). I'm confident it will help attract the right buyer to this property." −− Colleen Malone ~ Principal Broker, Moxie Realty, Portland OR "The house looks great being professionally staged, Thanks!" −− Cindy Oja, CRS, GRI, Broker ~ John L Scott Real Estate, Portland OR "How's that for fast work … your staging definitely made this quick sale possible - Thanks!" −− Mary Parrish, Beaverton OR "We have started painting some of the rooms, and everything looks great!!! Have had many compliments so far from family and friends … thanks again for the great advice." −− Ed Giesbers, Forest Grove OR "Thank you Maureen, we love our new partnership. Pretty amazing what we were able to do with our last listing! It was on the market with another agent for over a year before we came in and developed our marketing plan, which included your expert home staging services - we went from listed to SOLD within 40 days! Now it's on to the next one!" −− Jason & Amber Gardner, The Gardner Team ~ Hasson Company Realtors, Sherwood OR "We contacted Maureen based on a recommendation -- boy were we glad we did! She gave us sound advice that "showed the space" in our home's interior. Maureen was also very professional in telling us that our main exterior paint color was not mainstream and a different color would likely attract more interest. Not only was she right, she helped select a main color that would compliment the existing trim and shake colors, saving us hundreds of dollars. Her home staging advice and service was a big part of why our home sold in 45 days, even in the Winter months and during a tough time in the Portland real estate market." −− P & A Wong, Portland OR "Maureen with Room Solutions is one of the best home stagers in her industry. As a Realtor, I highly value home staging and recommend it to all of my clients. Maureen responds immediately and has a very professional and kind yet firm way with my sellers. I am very confident in her abilities and her knowledge of home staging. Whether you are a Realtor hiring her to assist your seller in getting their home ready for the market, or a seller who knows that home staging will help get top dollar, Maureen is the way to go." −− Karina Stark, Principal Broker ~ Keller Williams Realty Professionals, Portland OR "Thank you, Maureen. I am very pleased with the staging results and appreciate everything you did to tie it all together." −− Doris Schwab, Portland OR "Thank you again for all your help - because of your advice and guidance, we attracted the perfect buyer who immediately fell in love with the condo! We got a full price offer too! If we can ever be a reference for future clients, please don't hesitate to ask - we're huge fans!" −− Tselani Richmond, Lake Oswego OR "Thank you so very, very much -- you have done a spectacular staging job Maureen." −− Ivy Stanton, Zip Realty, Portland OR "Thanks for your amazing work. I love how you decorated my new home. Thanks again!" −− Bob Yohn, Portland OR "We got lots of positive feedback from our potential buyers. Thanks again for the gorgeous staging of our home. :)" −− Henry Li, Beaverton OR "Thanks for all your great staging! It really made the house show at it's best. We'll contact you for future staging and I'll also tell my friends to hire you if they need staging." −− Jill Regez, Beaverton OR "Excellent experience. Maureen at Room Solutions Staging is truly a first class professional home stager." −− Milan Cole, Broker ~ JMA Properties LLC, Portland OR "The house looks fantastic. Besides being beautiful and functional, it is easy to maintain, even with two dogs! The Open House received lots of positive feedback." −− Kyle and Amy Ruthnick, Milwaukie OR "We were very pleased with Maureen's home staging work from start to finish. Her proposal was easy to understand, the contract was well laid out and the staging was performed exceptionally well. Maureen helped us pick a great interior paint color too. As a result of hiring Maureen, we were able to sell a vacant house within two days of it being staged and listed. If we hadn't staged the house with Maureen's help, who knows how long it would have stayed on the market. Thank you Maureen!!" −− Michael Hass, Sherwood OR "Maureen is awesome! Since I was using my own furniture, she recommended removing & moving some pieces and adding some inexpensive decor pieces. It looked great! She definitely knows what she is doing and puts you at ease the moment you meet her. All this for a reasonable fee -- a great investment. I'll most certainly recommend her to my friends and family and would definitely use Maureen in the future for interior decorating ideas too." −− Cathy DesRochers, Portland OR "WOW! Is that our house? Thank you so much for the amazing home staging! It was great working with you and if you need a reference just send them our way!!" −− Ron and Pam Errico, Beaverton OR "We use Room Solutions Staging to stage our remodeled homes because of their great service, expertise and their incredible results. Prospective buyers, their agents, and everyone else raves about their designs. We sell our homes quickly, thanks in large part to Room Solutions Staging." −− Frank Halpin, Principal ~ Ruby Northwest Design & Remodeling, Portland OR "We chose to stage our home in hopes that it would sell quickly because with two small children it is very difficult to keep the house looking presentable at all times. We chose with Maureen Bray from Room Solutions Staging. I thought our house looked pretty good beforehand, but after following all of Maureen's suggestions our house looked absolutely stunning! We had an offer 5 days after we put it on the market! When we sell again we'll be sure to come back to Room Solutions for Maureen's expert advice." −− Sarah Lausevic, Hillsboro OR "Thanks Maureen! Two weeks on the market, four showings, and an offer accepted. Your home staging was wonderful!" −− Vic and Stefanie Cao, Portland OR "Thank you for the excellent staging. Please include us in your next testimonial. We had incredibly positive comments on your staging and we feel your work was integral to the successful sale." −− John & Priscilla DeCosta ~ Principal Brokers, Keller Williams, Portland OR "Maureen came to my home to help with furniture arranging and staging (ReStyling). She had great ideas; rearranging & changing just a few things made a tremendous difference. Maureen has a great eye and was wonderful to work with. Things look so much better now; I'd highly recommend Room Solutions to anyone who is looking to freshen up their decor or staging a home for sale." −− Lauri Dixon, Portland OR "I want to thank you for staging my home; I know your talent helped to sell it. I am grateful to Deborah Jackson for recommending you; she was right when she told me that using your services would help my home to sell. I will recommend you to my friends." −− Myrna Marsa, Hillsboro OR "I appreciate your expert advice on color choices coupled with all the home staging work. I'd suggested to my sellers that changing several of these items would improve buyer perception, but they were reluctant to listen. Maureen, you must have a way with words…they listened to you. Thanks so much! My sellers' home looks like a showcase, much more warm and presentable. Your home staging is very professional, and the photos were a big help as well. I'd certainly recommend Room Solutions Staging again!" −− David Somerville, PC ~ Prudential NW Properties, Portland OR "Maureen was absolutely fabulous. She gave me so many ideas and was incredibly positive as my 1970's house gets a new face. She is an incredible resource, and she was very willing to work around my schedule. I highly, highly recommend her. She deserves an 'A+' rating." −− Glenda Douglass, Lake Oswego OR "Thanks again for your beautiful home staging work. As it turns out the very first people that walked into our house and made an offer are the ones who are buying the house…largely attributable to your staging assistance!" −− Dana Lloyd, Beaverton OR "Maureen provided a list of suggested cosmetic improvements for the house which were relatively quick, easy, and inexpensive. After we completed those improvements (which made a huge difference on their own) she came back and did the staging. I was amazed at how transformed it was! This house looked drab before and had been an abused rental, so we were all very sick of dealing with it. My 7-year-old stepson would complain non-stop every time we had to go over there. As soon as he saw it staged he said, "I don't want to leave" and "I think we should just move in here." What a change! A friend who'd said that she didn't think staging would make much difference in getting the house sold saw the amazing photos (which Maureen provided as part of her home staging service) and said "That CAN'T be the same house! It's as good as sold!" Another family member who'd helped get the place fixed up said after seeing the photos, "Wow! Is that really the same house!?" So it's unanimous! The house looks better than any of us ever could have imagined. And it's not just that the stuff in it is nice. She really brought out the best in the house. I had no idea it could look so great!" −− Cami Idzerda, Hillsboro OR "Your home staging Consultation was fantastic - thank you! I'm sure we will do more business in the future." −− Stephen FitzMaurice, Realtor ~ Premiere Property Group, Portland OR "I must say we have been looking at homes since the spring of this year and you are the most professional designer that we have come across. The home is beautifully done and you have exquisite taste." −− Susan Ruff, Portland OR "The condo had been on the market for over a year. The best feature of this condo was the view of Mt. Hood, but there was a big empty living space with stark white walls. Maureen first helped with home staging advice for neutral wall paint, a few light fixtures, followed by staging of some key rooms. The difference was phenomenal! We put this condo on the market at a less optimum time of year and had an accepted offer in about a month! I truly believe that Maureen's advice and home staging helped close the sale on this property. She was wonderful to work with; she knew exactly which features to emphasize and she also understood the demographic of the potential buyer and she staged accordingly." −− Rhonda Bakke, Broker, John Ludlow Realty, Inc., Wilsonville OR "Thanks, Maureen, for all your expert home staging advice and creative design. It really made all the difference in being able to sell my parents' home so quickly!" −− Marian McAndie, Portland OR "Your staging is the nicest I've ever seen, very professional … and thanks for your wonderful photos!" −− Leon Simms Broker, Windermere/Bridgeport Realty Group, Lake Oswego OR "You did an amazing job. The spaces flow brilliantly and your arrangements of color, contrast, and objects work in unison to amplify the finest qualities of the house. Your home staging work is pure artistry, and my money was very well spent. We received an offer in just 3 days!" −− Jerome Unterreiner, Portland OR "I highly recommend your services – you have done an amazing job staging my listings! With your help I was able to get a listing that had previously been on the market for over two years sold in just 6 weeks! Thanks again!" −− Jeanie Lovell CRS ~ Broker, John L. Scott Real Estate, West Linn OR "Our Realtor believes that the home staging was a significant factor in the showings and quick sale of the condo." −− Jean Salvador, Portland OR "Thank you for using so many natural elements in your staging of this LEED Platinum home." −− Paul Scardina, IIDA ~ Designer/Owner, Paolo Design Group, Portland OR "The home you staged for my client sold in only 3 weeks, even though other homes with the same floor plan in this neighborhood remain unsold. In today's market that's an excellent outcome and great return on my client's investment in staging." −− Lee-Pin Chu, Broker ~ Robert Deigert Real Estate, Portland OR "I am most impressed. You've made me a believer in home staging…you are a terrific stager." −− Dede DeJager ~ Broker, Windermere/Cronin & Caplan Realty Group, Portland OR "You and your amazing team did it again! My client's condo sat vacant on the market for 15 months. Each month there was cash out for the mortgage, HOA dues, taxes, utilities & insurance. Then you staged it and we had a sale in less than a month. Your "MAGIC" worked – my clients and I feel you were instrumental in this sale and we thank you very much!" −− Shar Bailey, Portland OR "I do believe the staging helped get this town home sold in just 6 weeks. I will definitely be using your services in the future." −− Gabby Tyer, GRI, CRS ~ Principal Broker, Realty Solutions LLC, Portland OR "Thank you for making my home look more appealing to potential buyers; it sold in just 10 days!" −− Ken Stevenson, Portland OR "Thanks Maureen - you have been so wonderful for my clients and I really appreciate your hard work." −− Jan Cullivan, GRI, ABR, CRS ~ Broker, Re/Max Equity Group, Portland OR "The expense of staging certainly paid off. Having the home staged made people more able to imagine themselves living there -- it sold in just a few days, after being on the market vacant for many months." −− Marc Hoffman, Portland OR "I love your staging – it looks gorgeous and so do your photos! Thanks for your hard work. I will refer you to everyone!" −− Wendy Snyder Broker, Portland Creative Realtors, Portland OR "Only 2 days after you staged this home we had an accepted offer…it was the first offer after being shown for 3 months as a vacant home." −− Jack Keith, Tualatin OR "You helped me re-design our new home with existing furniture from our previous home - excellent, very professional and easy to work with. You could see & arrange things that I could never have come up with myself. You used the time wisely and I highly recommend you as a very talented and skilled decorator and home stager." −− Karen Fruehauf, Beaverton OR "Once again you did a wonderful job staging! After this home had been on the market for almost a year it sold soon after staging. I have very happy clients." −− Cari Crossley ~ Broker, Coldwell Banker Barbara Sue Seal Properties, Beaverton OR "Our house is three stories and the Room Solutions crew staged every room, in some cases quite dramatically. Maureen was so helpful and responsive and was able to ensure a great experience. I walked into my house after their work and was blown away. They made the house more open and appealing." −− Sheri Fitts, Portland OR "I have been using Room Solutions Staging for several years. Maureen has always been extremely professional, polite and she is exceptionally talented. She has a beautiful inventory of furniture and accessories; it's always a pleasure to work with her and see the magic that happens when she stages a home. One of my recent clients did everything on her list of suggestions. The home was vacant and Maureen then staged the important rooms of the home and it was gorgeous! Needless to say, I got an offer on the home within the first 12 hours that it went on the market! That was a record, especially in this real estate market of 2011. Maureen has excellent follow-up skills and takes pride in her work. She is fun to work with and she has also worked with several other Realtors in my office, and they all rave about her! Staging works, and Maureen's magic will transform your home whether it is on the market or you just want a fresh look!" −− Deborah Jackson, Broker, GRI, Re/Max Equity Group, Beaverton OR "Our home looks stunning. Thank you for all of your contributions; this has been a great experience for us! I recommend this process for anyone who wants to simplify their environment - selling their home or not." −− Melissa Sackett, Tigard OR "Thanks for a staging job well done…the property now shows beautifully and in its best possible light." −− Harold Schockelt ~ Principal Broker, Centerwood Realty, Tigard OR "I would never have thought to (stage) things this way. I'm just blown away by it. Thanks for trying to juggle your schedule around for me. I am continually impressed with your level of service." −− Roy Jacobson, Portland OR       Room Solutions client, in a KATU-Ch 2 TV News feature on home staging "We are really impressed – after 8 months on the market as a vacant property, we had a sale just 4 weeks after you staged our home. Thank you so much!" −− Angela Varney, Portland OR "Congratulations, you made it happen! My listing had been on the market for a year. Although there were multiple open houses and showings, no offers came through. Once you staged it however, in less than 2 weeks we had a sale! You know your stuff. Thank you from both my client and myself." −− Bob Hoyt, GRI ~ Broker/Owner, Hoyt Realty, Portland OR "Thank you so very much for the beautiful staging of my condo. It had warmth, livability, humor, and just the right touch of elegance. I don't think the property would have sold so quickly without it!" −− Karen Brandenburger, Portland OR "I received many compliments about your staging – it made a huge difference. The house sold a week after staging, after being on the market vacant for 7 months. Thanks again for all of your help…I have passed your information to everyone in my office as a competent stager who does a great job." −− Christa Glasgow ~ Broker, Windermere Realty Partners, Portland OR "I cannot begin to thank you enough for the wonderful job you have done staging our house…we received a full price offer in only two weeks." −− Joe Martin, Portland OR "What a huge difference…I am so impressed. Your staging made this house a home and it will help the sale immensely. Thank you so much." −− Jill Gregory, ABR, CRS ~ Broker, The Sunset Group, Beaverton OR "In a slower market where properties like mine have an average selling time of 3 months, after staging my home sold in only 14 days. Your staging really made the difference here!" −− Richard Merrill, Portland OR "Your staging of my vacant listing was very effective! After 5 months on the market and no offers, after your staging we had a sale in 3 weeks. The creative solutions you came up with allowed potential buyers to imagine living there. You provided high quality service and I appreciated your willingness to keep the budget in mind. Thanks for making this house more marketable." −− Leslie Jones, GRI ~ Principal Broker, RE/MAX Signature Properties, Portland OR "The house had a full price offer in just five days. In this market, it was the best outcome I could have hoped for. Again, many thanks to you and your team." −− Todd Harris, Portland OR "Thanks! The feedback on the house has been great. We received two offers and a sale for full price within two weeks of staging and listing…Nice work!" −− Dave Amato ~ Broker, RE/MAX Equity Group, Portland OR "My broker said the house is shown often and several agents have asked about the staging, saying it's the nicest they have seen!" −− Shelley Hall, Beaverton OR "You quickly assessed what my home needed and brought in tasteful accessories as well as rearranged my own items. The furnishings and colors you used were very inviting – and my home is sold! You and your staging crew were professional and efficient throughout the process." −− Carolyn Morgan, Portland OR "Your home staging advice is top notch. With your eye for design and knowledge of color you make the most basic home look outstanding. You have a talent for knowing how to help a seller get Top Dollar for their home in the shortest amount of time. A staged home definitely puts more money in the seller's pocket. I enthusiastically recommend your service." −− Terry Shumway, CRS, GRI ~ Broker, RE/MAX Equity Group, Portland OR "Thank you for staging my home – it looked so beautiful. It certainly takes a unique set of eyes to stage a home to sell it. With today's market being so competitive I don't think my home would have sold so quickly without your staging help." −− Sue Tsang, Portland OR Affiliations & Designations                                                       
Content © 2014 'Frequent Contributors'. Design © 2014 Market Leader, Inc. All rights reserved, Inc. All rights reserved.
Logos and service marks owned by copyright holder.